Tonight at Computers in Libraries was the first Info Tubey Awards.
From the Computers in Libraries website:
"The First InfoTubey Awards:
YouTube Productions@CIL 2007
InfoTubey Award Winners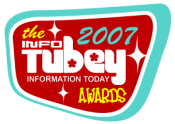 These awards will be presented to those organizations or individuals for outstanding YouTube productions. Premiering at the 2007 Computers in Libraries conference, these awards recognize those creating YouTube library-related productions. Awards will be presented to the top five productions that demonstrate creativity, humor, and sincerity (of course!) in marketing a library or library services or enhancing the library's value. The winning productions will be shown at CIL 2007 on Tuesday evening, 7:30 p.m. – 9:00 p.m. Sponsored by:


"
The evening included free drinks and popcorn, free dessert and the red carpet on entry. The judging panel, who also hosted the evening, were dressed up for the evening with host Bill Spence resplendent in his tuxedo and the ladies on the panel looking delightful with their tiaras. Interpretive dance at each of the announcements, plus amusing introductions and the winning videos themselves made for a very fun night out.
Info Tubey Awards were handed out to 5 winners, coming from a nomination pool of 60 entries – a phenomenal first year entry pool which will only continue to grow.
And the winners are…….
Check out my Info Tubey set at flickr and click on the InfoTubey awards powerpoint for the live links to the winning You Tube videos. Also its worth checking out the Honourable Mention "March of the Librarians". Enjoy!